Failing to vaccinate your child against measles because it's against your beliefs isn't a crime, but perhaps it should be.
This year's measles outbreak, the nation's worst in 25 years, stands at 839 reported cases in 23 states as of Friday. The summer months could provide some respite because children are out of school, but many medical professionals expect the situation to worsen before it improves. Last week brought 75 new cases, according to the Centers for Disease Control and Prevention, which is more than the previous week, when there were about 60 new cases. As a colleague recently quipped, "Both socialism and the measles are back."
The disease is back because too many people have failed to get vaccinated, and it doesn't take much for an outbreak to become an epidemic. In 1994, a skier with measles at a resort in Colorado exposed five other people to the disease, including a teenage girl from Illinois, who proceeded to spread it to 51 people back home and 156 people at her boarding school in Missouri. As other vacationing skiers returned home, the outbreak spread to Texas, Maine, California, New York, Maryland, Michigan, Washington state and other parts of Colorado. Similarly, an outbreak in 2014 was traced to a single visitor to Disneyland in Southern California. It eventually reached more than 147 people in seven states.
This year, New York alone has recorded 600-plus measles cases, which is more than the number recorded nationwide in 2018. And it's only May. The cases have been concentrated in New York City and its suburbs, where pockets of Muslim, Christian and Orthodox Jewish families object to receiving the shots on religious grounds. Public-health officials across the country are scrambling to raise awareness about the importance of inoculations, a task made more difficult by others spreading quackery on social media. Evidence of any link between vaccines and increased incidence of autism or other diseases is nonexistent, but anti-vaccination conspiracy theorists have urged parents to forgo shots for their children. On social media last week, a state legislator in Texas compared vaccines to "sorcery" and called them "dangerous."
Public officials have responded by declaring health emergencies, threatening resistant parents with fines and banning unvaccinated children from some schools and public spaces. This is productive to some degree, but what's really needed is a thorough rethinking of who gets to opt out of vaccination requirements. Every state has laws mandating certain vaccines for students, but most of them also offer medical, religious and even "philosophical" exemptions to these mandates.
According to the National Conference of State Legislatures, all but three states—California, West Virginia and Mississippi—grant exemptions from school immunization requirements for religious reasons. And 16 states "allow philosophical exemptions for those who object to immunizations because of personal, moral or other beliefs." The results speak for themselves. States with fewer exemptions tend to have fewer cases of vaccine-preventable diseases.
Sadly, state lawmakers continue to pussyfoot. Last week, Washington state, which has reported more than 70 measles cases this year, passed a law that ends personal and philosophical exemptions to immunization but leaves religious exemptions in place. Since 2015, the New York state legislature has repeatedly tried and failed to pass a bill. Is it any wonder that New York became the epicenter of the latest outbreak, or that communities that exercise their religious exemptions have been hit hardest?
Even medical exemptions warrant more scrutiny from state officials. Obviously, there are sound health reasons for avoiding vaccines under certain circumstances. Someone who is receiving chemotherapy, for example, shouldn't get a measles shot. The problem is that some doctors have been handing out medical exemptions like candy on Halloween. In 2015, California passed a measure that barred parents from citing personal or religious beliefs to avoid vaccinating their children, but families quickly found a way around the new law. Kaiser Health News reported last month that the number of California children who were granted medical exemptions from vaccinations has tripled in the past two years.
"Doctors in California have broad authority to grant medical exemptions to vaccination, and to decide the grounds for doing so," according to Kaiser. "Some are wielding that power liberally and sometimes for cash: signing dozens—even hundreds—of exemptions for children in far-off communities." The upshot is that "many of the schools that had the highest rates of unvaccinated students before the new measure continue to hold that alarming distinction."
Public-awareness campaigns can make a difference and should continue, but they're not enough. Opponents of vaccinations are putting the health of others at risk, and they have no right to do that. More laws should be passed and enforced in a manner that makes this crystal clear.
Featured photo credit: U.S. Air Force photo/Airman 1st Class Matthew Lotz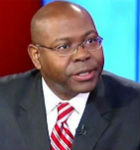 Jason Riley is a member of The Wall Street Journal Editorial Board.
The views expressed in opinion articles are solely those of the author and are not necessarily shared or endorsed by Black Community News.