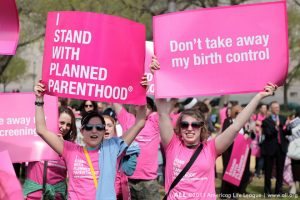 Abortion advocates are not happy about this news.
The new session of the U.S. Congress is on track to block taxpayers' dollars from going to abortion mill Planned Parenthood.
Pro-lifers taxpayers don't want any part of it. Opposing abortion is a noble cause, but as long as our money goes to Planned Parenthood — even to pay the light bill — we're contributing to the slaughter.
Under a new, pro-life friendly administration, Americans who want to protect babies hopefully will have more say about how Congress spends their money.
Life Site News reported that House Speaker Paul Ryan has confirmed the same budget bill that would repeal Obamacare includes defunding Planned Parenthood. An excerpt:
The Planned Parenthood defunding measure will be attached to what is known as a budget reconciliation bill, which is a way for the House to pass a federal budget while bypassing a Senate filibuster and limiting the amount of time the bill can be debated. If the reconciliation bill passes the House and a simple majority in the Senate, it will go to the president's desk for him to sign.
…
A reconciliation bill would likely be able to make it through the narrowly-controlled pro-life Senate more easily than a regular bill.

Planned Parenthood commits over 300,000 abortions per year and receives $553.7 million from U.S. taxpayers. It claims abortion is only three percent of its services, but doesn't advertise the fact, admitted in its own annual report, that 94 percent of their pregnancy-related services are abortion.
Money Planned Parenthood presently receives will be redirected to health centers that don't kill the unborn.
"Today's commitment by Speaker Ryan to re-direct the abortion giant's taxpayer funding to community health centers is a victory for women's health care," Susan B. Anthony List president Marjorie Dannenfelser said. "Community health centers provide far more services than Planned Parenthood and outnumber them 20 to 1 nationwide. We commend Speaker Paul Ryan on his continued resolve to fund women's health care, not abortion. His pro-life, pro-woman resolve is shared by Majority Leader McConnell and President-elect Trump, and we are confident Congress will get this important legislation to the President's desk for his signature after the inauguration."
Photo credit: American Life League (Creative Commons) – Some rights reserved