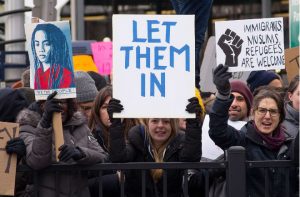 The President of the United States has the power to suspend or restrict immigration of any aliens or class of aliens in the interests of the country.
Just as former president Barack Obama and others before him restricted immigration, so has President Donald Trump.
Federal law gives the president this broad authority, but lower courts have ruled against President Trump's executive action to temporarily suspend immigration from mostly Muslim countries Iran, Libya, Somalia, Syria, and Yemen over vetting problems, and North Korea and Venezuela.
The U.S. Supreme Court acknowledged this power and upheld President Trump's travel ban. From Fox News:
Chief Justice John Roberts, who authored the conservative majority opinion, wrote that the order was "squarely within the scope of presidential authority" under federal law.

"The sole prerequisite set forth in [federal law] is that the president find that the entry of the covered aliens would be detrimental to the interests of the United States. The president has undoubtedly fulfilled that requirement here," he wrote.
…
While the policy was upheld, the case was sent back to the lower courts, which were told to rely on the Supreme Court's interpretation of executive authority.
Some Americans believe the ban should include more Muslim countries.
By Rhododendrites – Own work, CC BY-SA 4.0, Link