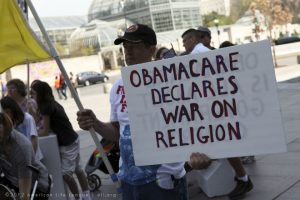 If Congress repeals Obamacare, the contraception mandate will go away…if the replacement bill doesn't include a similar provision.
As it stands, under Obamacare, employers must offer birth control pills and devices, some of which may induce abortions, in employee health insurance coverage.
Churches and certain organizations have religious and moral exemptions.
For example, a court exempted the non-religious pro-life organization March for Life from being forced to offer health insurance coverage for drugs that could end unborn lives.
The biggest case successfully challenging the mandate was Burwell v. Hobby Lobby Stores, Inc. The retailer's Christian owners wanted nothing to do with the mandate.
Hobby Lobby sued, and the case eventually reached the U.S. Supreme Court. The high court ruled that the contraceptive mandate violated Hobby Lobby's rights under the Religious Freedom Restoration Act. Closely held corporations can't be forced to provide contraception coverage to employees.
President Donald Trump reportedly is ready to expand the mandate's exemptions for employers who object on religious or moral grounds. From the Hill:
Any changes to the mandate, which requires that insurers cover birth control with no co-payment, would be a victory for religious groups and employers that have been engaged in legal battles since the requirement took effect in 2012.
…
According to a leaked May 23 draft of the rule obtained by Vox, any employer — including colleges, universities and health insurance companies — would be allowed to seek an exemption on moral or religious grounds. Currently, only houses of worship and some companies are exempt.
…
The Office of Management and Budget is currently reviewing the rule, the final step before it goes into effect. It's unclear when OMB will complete the review and if it will make any change to the current draft.
A previously deadlocked Supreme Court ordered the religious groups fighting the mandate and the government to come up with a compromise.
One of the religious organizations, Little Sisters of the Poor, offered to tell its insurance company to provide a separate contraceptive-only plan, with separate coverage, enrollment, and insurance cards. If President Trump expands the exemption to cover these groups, the negotiations would be over.
Photo credit: American Life League (Creative Commons) – Some rights reserved