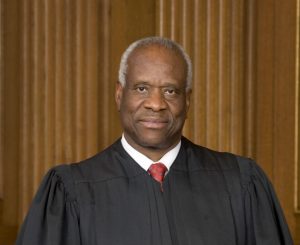 Sources reported that Justice Clarence Thomas, the only black U.S. Supreme Court justice and only the second to sit on the bench (after Thurgood Marshall) receives a scant mention at the Smithsonian's new National Museum of African American History and Culture in the nation's capital, and a negative one at that.
Raffi Williams wrote that the museum "treats conservative Supreme Court Justice Clarence Thomas like a mere footnote while heralding the woman who accused him of sexual harassment, Anita Hill."
The text under Hill's photo notes that she charged Justice Thomas with sexual harassment.
Mark Paoletta, a lawyer worked with Justice Thomas on his confirmation wrote in the The Hill that the museum's reference to the justice is a slight it must redress.
"The slight is especially glaring because this month marks the 25th anniversary of his arrival on the Supreme Court," Paoletta wrote. He added that it's "probable that the museum curators had no room for Thomas because his conservative views make him an 'Uncle Tom,' as if arriving at different conclusions from his peers makes him an unsuitable topic for public conversation. But his views in fact have a long tradition in the black community."
The people who run the museum, which receives tax dollars, don't consider Justice Thomas, a black man sitting on the nation's highest court, a commendable part of black Americans' history.
The Smithsonian included a bust of Planned Parenthood founder Margaret Sanger in an exhibit on civil rights.