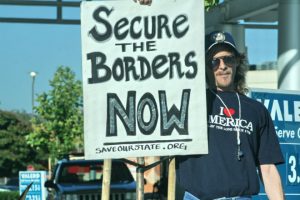 The federal government seems unconcerned about importing the kind of people who've declared a holy war against those who don't adhere to their religion.
Meanwhile, foreigners continue to pour across the porous southern border. Is there any end in sight?
What is the point of a Department of Homeland Security and a border patrol?
Omar Mateen, the Muslim terrorist who murdered and injured people at a homosexual nightclub, was on the FBI's radar before the attack. Additionally, one gun store owner said he called the FBI to report Mateen after he asked about body armor and spoke in Arabic to someone on the phone.
In the age of global terrorism, these were strong warning signs. But the federal government, propped up by our tax dollars, failed to stop him.
The Washington Times reported that the number of people illegally crossing the border has increased this year. An excerpt:
Some 6,788 people traveling as families were caught on the southwest border in May — a leap of more than 20 percent over April, and putting the total for the first eight months of the fiscal year at nearly 45,000.

That's already well above the 2015 yearlong total of fewer than 40,000, though it's short of the record pace set in 2014, when a massive surge exposed massive holes in the U.S. immigration system.
What are immigration laws for if not to exercise sovereign control over our borders? Why have these laws on the books if they won't be enforced?
U.S. Customs and Border Protection claimed in a statement that it "deported some 50,000 people back to Central America so far in fiscal year 2016." But as the Washington Times noted, the U.S. has caught almost 60,000 unaccompanied children and others.
Law-abiding Americans deserve more than half-hearted attempts and excuses.
Photo credit: Travis Wise (Creative Commons) – Some rights reserved