Black Community News (BCN), affiliated with the Center for Urban Renewal and Education (CURE), is a conservative Christian news and opinion blog. This blog is not a general black news site. We strive to reach more black conservative Christians, though all conservative Christians are welcome.
Feel free to send us news and tips.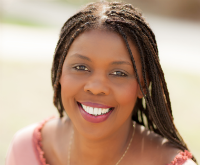 About Star Parker
Star Parker is a syndicated columnist, social critic, author, and conservative political activist. In 1995, she founded CURE. Her opinion reaches eight million readers every week. Additionally, she gives regular testimony before the United States Congress, and often shares her views on major television and radio shows across the country.
About the BCN Senior Editor
La Shawn Barber's work has appeared in the Washington Examiner, Washington Post, Washington Times, National Jurist, Christianity Today, Christian Research Journal, and other publications. She wrote a weekly column for WORLD online, a Christian publication. La Shawn is an independent conservative.
The BCN Senior Editor runs the site's Twitter and Facebook accounts.