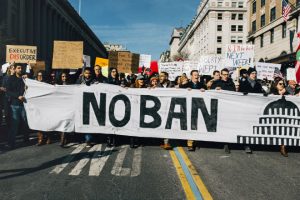 The U.S. Supreme Court unanimously ruled last month to allow President Donald Trump's temporary ban on immigration from certain Muslim countries to go into effect until the court hears arguments in the case in October.
The court will allow the government to block foreigners' entry into the U.S. unless they have a "bona fide relationship with the U.S.," which means close family members like parents, husbands and wives, siblings, and children.
Meanwhile, the order's opponents have challenged the high court's decision. Hawaii sought to expand the relationships to grandparents and other relatives and asked the court to clarify the scope of the high court's ruling. But the federal court ruled against the challengers this week. From the Washington Times:
"This court will not upset the Supreme Court's careful balancing," Judge [Derek K.] Watson wrote.

In a June 26 ruling, the justices agreed to let much of Mr. Trump's extreme vetting policy go into effect, canceling an earlier injunction Judge Watson and other federal judges had imposed.
…
Homeland Security said it looked to federal immigration law and previous court rulings and concluded that parents, siblings and spouses were close relationships, but others — including grandparents, cousins, aunts and uncles and even couples engaged to be married — did not qualify.

Hawaii Attorney General Douglas S. Chin had argued that in his state, close family relationships had a much broader meaning that needed to be protected.

Judge Watson said he'd be happy to interpret his own orders, but since the standard in this case was set by the Supreme Court, it's up to the justices to say what they meant.
The Washington Times called Judge Watson's decision a "rare court victory" for the president.