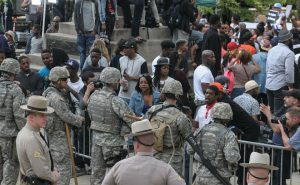 One of the six police officers charged in Freddie Gray's death has been acquitted of all charges.
Officer Edward Nero of Baltimore was charged with misdemeanor second-degree assault, reckless endangerment, and misconduct in office. A judge acquitted him after a five-day bench trial. From the Baltimore Sun:
Prosecutors had argued that Nero committed an assault by detaining Gray without justification, while the reckless endangerment charge related to Nero's role in putting Gray into an arrest wagon without buckling a seat belt. In closing arguments Thursday, Williams had skeptically questioned prosecutors about their theory of assault, which legal experts said was unprecedented.
…
Nero's attorneys had sought to minimize his role in the arrest, saying that he had limited contact with Gray. They also argued that Nero followed his training.

The next trial in the case will be that of Officer Caesar Goodson Jr, the driver of the van used to transport Gray. His trial is scheduled to begin June 6. His trial is to be followed by those of Lt. Brian Rice (July 5), Officer Garrett Miller (July 27), Officer William Porter (Sept. 6) and Sgt. Alicia White (Oct. 13).
Officer Goodson, who is black, faces the most serious charge: second-degree murder.
After Gray died in police custody, rioters took to the streets and destroyed other people's property and looted stores. Mayor Stephanie Rawlings-Blake was criticized for saying the city "gave those who wished to destroy, space to do that as well."
Sheriff David Clarke called the six incited officers "political prisoners. There was no basis whatsoever under the rule of law to charge the officers. None."
Do you think acquittal was the right decision?
Photo credit: By The National Guard – Maryland National Guard, CC BY 2.0, Wikimedia Commons