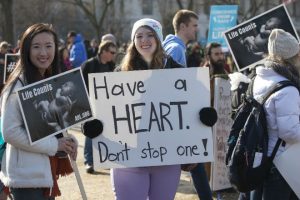 As of January 2016, crisis pregnancy centers in California, which exist to protect the unborn, must promote the slaughter of these babies.
The law requires centers to post this notice:
"California has public programs that provide immediate free or low-cost access to comprehensive family planning services (including all FDA-approved methods of contraception), prenatal care and abortion for eligible women."
The legislature thought it was a good idea to require groups that seek to protect to advertise a procedure that destroys.
A federal judge refused a request for a preliminary injunction to stop the law's enforcement. Liberty Counsel, which represents three of the centers, all faith-based, filed a brief on Tuesday in the U.S. Court of Appeals for the Ninth Circuit to stop enforcement.
The organization's founder and chairman Mat Staver said the law "requires that these faith-based, crisis pregnancy centers utter a state-drafted, pro-abortion message and encourage women to commit human genocide. This unbelievable government mandate is an example of the evolution of political correctness. This law forces pregnancy help centers and staff to be puppets of the state and channel the state's abortion message. This forced speech violates the First Amendment."
Pregnant women in the United States know they can kill their own unborn children and get taxpayers to foot the bill. Why would the state force life-saving centers to go against their mission and violate the conscience of the people who work there? It's an unnecessary measure and a deliberate affront to people who believe unborn babies have a right to live.
Photo credit: American Life League (Creative Commons) – Some rights reserved