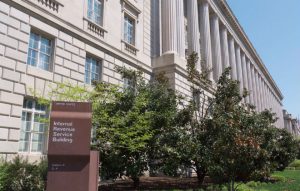 The House Oversight and Government Reform Committee voted on Wednesday for John Koskinen, commissioner of the IRS, to be censured for obstructing an investigation into whether the agency targeted conservative groups that sought tax-exempt status for extra scrutiny.
The committee seeks Koskinen's removal — voluntary or involuntary. The whole U.S. Congress has to approve his censure or impeachment.
"There was no politically motivated targeting at the IRS, there was no lying to Congress, there was no obstruction of justice," Rep. Elijah Cummings said. "It simply didn't happen. After three years…it's finally time to put this baseless conspiracy theory to rest…It's time to give up on this one."
Rep. Cummings apparently didn't get the memo. The IRS apologized for targeting conservative groups.
Through the Taxpayers Protection Alliance, over 90 conservative groups have signed a letter of support for the bill "Preventing IRS Abuse and Protecting Free Speech Act," which would eliminate the requirement that tax-exempt organizations reveal to the IRS the names of donors who gave more than $5,000. The signers contend that this information is irrelevant to the agency's routine handling of tax filings, and eliminating it will make compliance easier.
The letter's signers believe free speech is at stake. An excerpt:
"Free speech has been under assault in recent years and the IRS has been at the center of the controversy. In several well-documented cases, the agency leaked private and sensitive Schedule B information that should never have been made public. For example, the agency settled a lawsuit with the National Organization for Marriage (NOM) after an IRS official emailed NOM's Form 990, Schedule B to the Human Rights Campaign, which then published it.
"The revelations of leaked information, as well as evidence proving that the IRS selectively grouped organizations based on their names, policy positions, and perceived ideology to deny or delay requests for non-profit status, show that the fight for free speech is alive and very real."
Signers include Star Parker, founder and president of the Center for Urban Renewal and Education (CURE), and Rev. Derek McCoy, CURE's National Clergy Center Director.
Photo credit: David Boeke (Creative Commons) – Some rights reserved