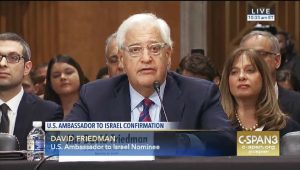 Vice President Mike Pence swore in David Friedman to office as United States Ambassador to Israel on Wednesday evening in Washington, D.C.
He is the country's 20th ambassador to Israel.
Friedman's appointment was approved last week by a Senate vote of 52-46.
"One of the clearest signs of the President's commitment to the state of Israel and to its people is in his choice of David Friedman as America's Ambassador to Israel," Vice President Pence said during the ceremony. "This is a critical time for our two nations and our peoples. The challenges we face are many, but our resolve to overcome them has never been stronger… Under President Trump's leadership, the United States will always be a faithful friend to the Jewish State of Israel."
Friedman thanked President Donald Trump, stating that he was "humbled by the trust he has placed in me," and vowed to "to do everything I can to justify his faith and confidence in my abilities."
He added that he's "very proud to say that my nomination represents the first time in American history that the US Ambassador to Israel was nominated by the President as early as the first day of his presidency. I'm equally proud to say that this is the first time in American history that the U.S. Ambassador to Israel was the first ambassador approved by the Senate and given the Oath of Office. Those facts speak volumes about how highly the Trump-Pence administration prioritizes our unbreakable bond with the State of Israel."
The new ambassador said he looks forward to working with Secretary of State Rex Tillerson "to promote peace and stability in the Middle East."
Upon selecting Friedman to be the U.S. envoy to Israel, President Trump released the following statement:
"The bond between Israel and the United States runs deep, and I will ensure there is no daylight between us when I'm president. As the United States' ambassador to Israel, David Friedman will maintain the special relationship between our two countries. He has been a long-time friend and trusted advisor to me. His strong relationships in Israel will form the foundation of his diplomatic mission and be a tremendous asset to our country as we strengthen the ties with our allies and strive for peace in the Middle East. Nothing is more critical than protecting the security of our citizens at home and abroad."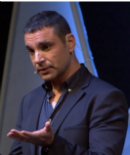 Amir Tsarfati, a Jewish Christian, is the founder and president of Behold Israel, a news site to correct the scarcity in trustworthy reportage on issues and events impacting Israel, and to resolve the uncertainty about who or what to believe.