Update II: The Department of Justice has reversed its earlier decision to redact references to ISIS in the Muslim terrorist's 911 transcripts. The government has released a full, unredacted transcript.
Update: From NBC: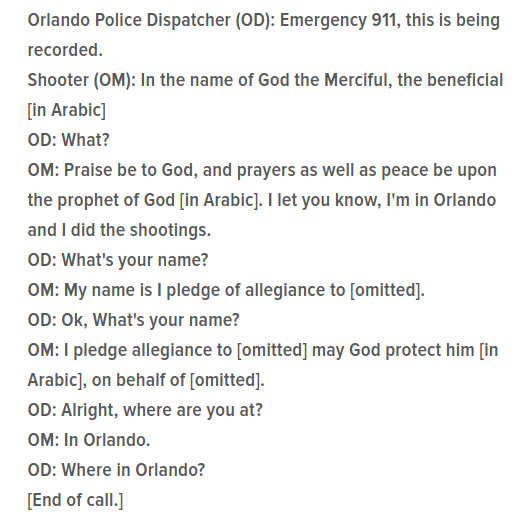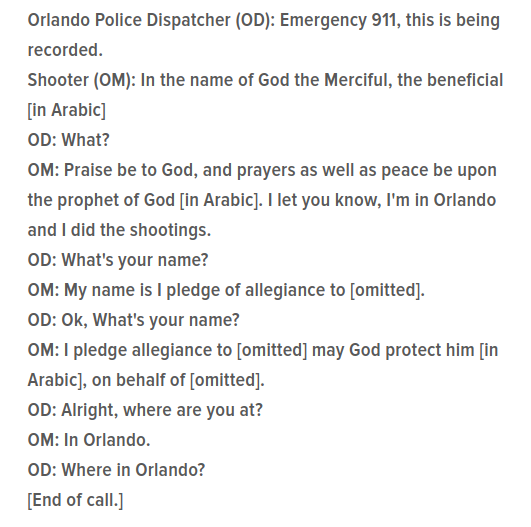 ———————————————
Although the Muslim terrorist who murdered and injured people in a homosexual nightclub and declared his actions motivated by Islam, the government will censor references to Islam from the murderer's own 911 calls.
Attorney General Loretta Lynch said the U.S. Department of Justice will release partial transcripts of 911 calls Omar Mateen made during his shooting spree. From Fox News:
"What we're not going to do is further proclaim this man's pledges of allegiance to terrorist groups, and further his propaganda," Lynch told NBC. "We are not going to hear him make his assertions of allegiance [to the Islamic State]."

The calls could confirm Mateen's motives in the wake of Facebook postings from the killer that already reveal Islamist leanings.
Former Fox News contributor Ric Grenell said, "The fact that Loretta Lynch is somehow redacting the specific enemy that is being called out here is a PR move."
Former New York Mayor Rudy Giluiani, who prosecuted minor offenses like graffiti and squeegee-men panhandling, which improved quality of life in the city, made a relevant parallel.
"Why didn't they do this with the Mafia, to spare Italian-Americans? Why? Because if you did, you would never make the connection [which ultimately] brought them down."