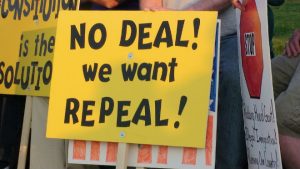 Has the repeal of Obamacare begun, and will Republicans see it through?
Senator Mike Enzi, chairman of the U.S. Senate's budget committee, introduced a resolution on Tuesday that takes aim at the law's funding. From Reuters:
The Republicans are using a budget resolution to provide for Obamacare's repeal, allowing them to act without any Democratic votes. Budget resolutions require a simple majority to pass in the Senate, instead of the 60 votes normally required to clear procedural hurdles. There are 52 Republicans in the 100-seat chamber.

The budget resolution contains so-called reconciliation instructions, directing committees to dismantle Obamacare as part of reconciling taxes and spending with the budget blueprint – and to report back to the budget committee by Jan. 27.
The Senate might vote on the resolution next week, then the House of Representatives will have its say.
Republicans in Congress attempted to repeal Obamacare last January. President Barack Obama, who is leaving the White House later this month, vetoed the bill.
Photo credit: NObama NoMas (Creative Commons) – Some rights reserved