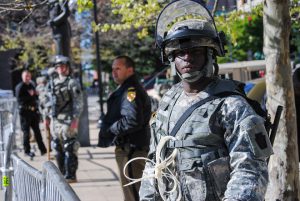 Sheriff David Clarke and others believe there's a war on the police, and the government should do more to protect these men and women who risk their lives every day to maintain law and order.
Immediately after Jeff Sessions was sworn in as U.S. Attorney General, President Donald Trump signed three executive orders focused on protecting members of the nation's law enforcement.
Now lawmakers seek to do the same. Townhall reported that the U.S. House of Representatives passed a bill called the Thin Blue Line Act, which will strengthen punishment for people who attack police officers. An excerpt (emphasis added):
Fifty law enforcement officers have died in the line of duty so far this year, according to the National Association of Police Organizations. A new piece of legislation may help decrease this tragic number by strengthening the consequences against those who attack our police.

Rep. Vern Buchanan's (R-FL) Thin Blue Line Act passed the House Thursday by a vote of 271-143. The bill would make the murder or attempted murder of a police officer, firefighter or other first responder an "aggravating" factor in death penalty determinations, Buchanan's office explained in a press release Thursday.
The measure has to jump the Senate hurdle.
Townhall noted that this week is National Police Week. President Trump said this to an audience at the 36th Annual National Peace Officers' Memorial Service on Monday:
"Every drop of blood spilled from our heroes in blue is a wound inflicted upon the whole country. May today be the beginning of a new era of respect and appreciation for law enforcement."