Fight for Schools is a group of concerned parents calling for the Loudoun County School Board chair and three members to resign. The group said it gained enough signatures on a petition last week to oust them.
Juli Briskman, a member of the Loudoun County Board of Supervisors, last week called members of the group "alt-right" on her personal Twitter account.
"TY @loudoun4all for a factual & thorough debunking of the alt-right FFS petitions. If they want to fight for schools they should support teacher pay increases, more mental health resources and ending the school to prison pipeline."
Black and Jewish parents took issue with the name-calling.
"I think it's absurd," Joe Mobley told Fox News. Mobley, a father of four, is black. "It's an ad-hominem" and used to distract from parents' concerns about what's taught in the classroom. "Obviously, as a Black dude it's weird to be called a White nationalist."
Elicia Brand, who is Jewish, said she was offended.
"I support [Fight for Schools Executive Director] Ian Prior and everything that he is doing for the schools and the parents in every way," she told Fox News. "I know many people in the Fight for Schools organization, and not one of them is alt-right, not one of them is far-right, not one of them is racist. She is putting political ideology and political agenda before the needs of the citizens of Loudoun County, and she owes every one of us an apology."
Despite the backlash, Briskman hasn't deleted the tweet.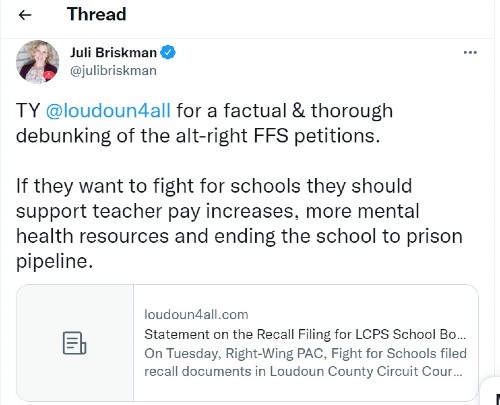 Loudoun County Public Schools has been under fire. Parents have been outspoken at school board meetings over the district exposing children to "critical race theory" and "transgenderism." Parents also are concerned about mask mandates. A father accused the district of covering up his daughter's rape. He said a boy wearing a skirt raped her in the girls' bathroom. The father was arrested during a school board meeting.
See the National School Boards Association category for more information about what school officials think of concerned parents.
Do you like this post? Sign up for more!