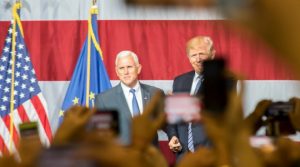 At the vice-presidential debate Tuesday night, GOP nominee Gov. Mike Pence challenged Sen. Tim Kaine on abortion and called out Hillary Clinton.
"I think if you're going to be pro-life you should be pro-adoption," Gov. Pence said. "But what I can't understand is with Hillary Clinton and now the senator at her side — is to support a practice like partial birth abortion — and to hold to the view — I know Senator you hold pro-life views personally, but the very idea that a child that is almost born into the world could still have their life taken from them is just anathema to me. I cannot have conscious about a party that supports that."
Some abortion advocates do believe that women have the right to abort a viable unborn baby. In Clinton's case, she believes taxpayers should foot the bill. She wants the U.S. Congress to repeal the Hyde Amendment, which bars abortion funding through Medicaid except if the woman was impregnated through rape or incest, or if the baby's existence is a danger to her life.
"It's a principle that Senator Kaine — and I'm being very gentle about this because I really do respect you — it is a principle that you embrace and I have appreciated the fact that you have supported the amendment that bans use of taxpayer funding for abortion in the past — but that is not Clinton's view. People need to understand — we can come together as a nation. We can create a culture of life — more and more young people today are embracing life because we know we are — better for it."
Photo credit: Darryl Smith (Creative Commons) – Some rights reserved