Prime Minister Benjamin Netanyahu will meet with President Donald Trump on the sidelines of the United Nations General Assembly in New York next week.
Their meeting is to center on the Trump administration's peace plan and diplomatic efforts against the Palestinians. They will also discuss the recent developments with Russia in Syria and Iran ahead of the second wave of United States sanctions in November.
The Trump administration has taken stringent measures against the Palestinians over the past months. The Palestinian Authority refuses to directly negotiate with Israel or consider President Trump's peace plan. The Authority has also refused to meet with U.S. delegations and diplomats for several months.
The Trump administration most recently shut down the Palestine Liberation Organization office in Washington, D.C., and revoked visas for Palestinian envoys in the U.S. The country is not only pressuring the Palestinians to cooperate and enter negotiations, but it's also combating the lies and corruption of the U.N. Relief and Works Agency — mainly its refugee claims and right of return demands for Palestinians. The U.S. has not only cut its financial aid to the agency but has taken a series of diplomatic measures.
Amir gave a Middle East Current Events Update from California on regional developments. Be sure to watch and share!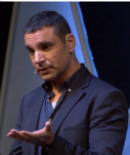 Amir Tsarfati, a Jewish Christian, is the founder and president of Behold Israel, a news site to correct the scarcity in trustworthy reportage on issues and events impacting Israel, and to resolve the uncertainty about who or what to believe.