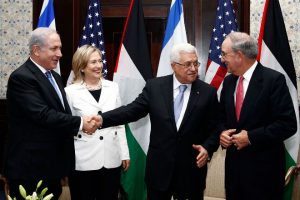 Palestinian Authority (PA) Prime Minister Rami Hamdallah rejected Prime Minister Netanyahu's proposal for resumption of direct negotiations Tuesday. Hamdallah claimed that Netanyahu's call for direct negotiations was an attempt to "buy time"  instead of cooperating with France's international summit in June.
Hamdallah said this time, "will not escape the international community."
Hamdallah's remarks came after his meeting with French Prime Minister Manuel Valls in Ramallah Tuesday. Valls met with Palestinian Authority officials following his three-day visit in Israel, where he met with Prime Minister Netanyahu, Israeli President Reuven Rivlin and other Israeli officials, his visit centered on promoting France's efforts to resume peace talks through its organized 20-state international summit to be held in France on June 3.
Jamal Dajabi, Director of Communications for the Palestinian Authority, said direct negotiations "with Mr. Netanyahu in the past have proven to be fruitless. Why repeat the same mistakes? Actions speak louder than words. Mr. Netanyahu's actions have shown that he's more interested in building illegal settlements than in reaching peace."
Prime Minister Netanyahu has consistently rejected the French initiative. After his meeting with Prime Valls he said, "I'm willing to come to the Élysée Palace and have a one-on-one conversation with PA president Mahmoud Abbas, with all issues on the table, including the settlements," reiterating Israel's stance that the summit will not encourage peace between the Palestinian Authority and Israel.
"Peace is not achieved in international UN-style conferences, nor through international diktats that come of meetings of countries around the world sitting to decide our fate. Peace is achieved through direct negotiations where the Palestinian Authority would face a historic choice: recognize a Jewish state side by side with a demilitarized Palestinian sate, or try to eliminate it."
Amir Tsarfati, a Jewish Christian, is the founder and president of Behold Israel, a news site to correct the scarcity in trustworthy reportage on issues and events impacting Israel, and to resolve the uncertainty about who or what to believe.