Prime Minister Benjamin Netanyahu will examine the Trump Administration's peace plan with a "keen and open mind."
Following his United Nations General Assembly address, Prime Minister Netanyahu gave an interview with CNN on President Donald Trump's efforts for a two-state solution with the Palestinians, as well as regional developments.
Netanyahu was asked about President Trump's comments last week ahead of their meeting on the sidelines of the U.N. when Trump stated, "I like two-state solution…That's what I think works best…" Netanyahu responded during the CNN interview that he would examine the peace plan with "a keen and open mind, because I know there's great friendship to Israel…I always said that I'm willing to look at peace proposals put forward by the United States."
The prime minister clarified that the West Bank will not be transferred to the Palestinians while he is in office. "Make no mistake: Israel will not give up on security control west of the Jordan (river) as long as I am prime minister. I think the Americans accept that principle."
He also clarified that Israel would remain in control of security if a solution were found. "I want the Palestinians to govern themselves, but not to be able to threaten us… Israeli forces must control security… Islamic terrorists will taker over that place: ISIS, Hamas, Iran or all of them combined."
Be sure to watch Amir's special update on Netanyahu's speech.
Photo credit: Netanyahu Facebook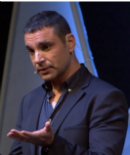 Amir Tsarfati, a Jewish Christian, is the founder and president of Behold Israel, a news site to correct the scarcity in trustworthy reportage on issues and events impacting Israel, and to resolve the uncertainty about who or what to believe.