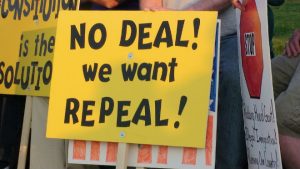 GOP lawmakers are considering doing what voters wanted all along — fully repeal Obamacare before any talk of a replacement.
President Donald Trump campaigned on repealing the former president's bloated, expensive signature law that purported to make health care more accessible and less expensive. The people who put President Trump in office voted for repeal.
The Hill reported on one of the president's tweets about repealing the law first, then dealing about a replacement later. Are lawmakers warming to the idea?
As the Senate majority leadership struggles to obtain enough support to pass healthcare legislation, some senators on Sunday argued it might streamline the process to split the bill into two.

Sen. Rand Paul (R-Ky.), who has been a vocal critic of the Senate GOP's healthcare bill — largely because he does not believe it's a full repeal of former President Obama's signature healthcare law — suggested Sunday the ObamaCare repeal and replace bills be separated.

"Let's do clean repeal like we've promised," he said on "Fox News Sunday."

"You can have a simultaneous bill or a concurrent bill that they can call replace," he continued.
Some Americans believe Congress should cancel its traditional August recess to get things done. At least 10 senators think so. They sent a letter to Majority Leader Mitch McConnell last week asking him to cancel the recess.
Do you think the Senate should remain in session until lawmakers pass an Obamacare repeal bill?
Photo credit: NObama NoMas (Creative Commons) – Some rights reserved