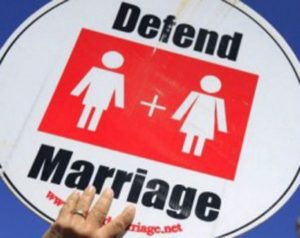 The North Carolina legislature passed a bill in 2015 to allow county magistrates to opt out of officiating homosexual "marriages."
Former Republican governor Pat McCrory, who signed a bill into law protecting privacy in restrooms, vetoed the bill. He said government officials are required to perform their duties even if they have religious objections.
Others believe government employees don't leave their religious freedom rights at the door. The legislature overrode the governor's veto.
The law's opponents are still fighting it, but they'll have to keep fighting. A federal appeals court this week rejected a challenge because the plaintiffs lacked standing to bring the suit. From Christian News Network:
"Plaintiffs concede that the state has not impeded or restricted their opportunity to get married," [Judge J. Harvie] Wilkinson wrote. "One same-sex couple married in 2014, another same-sex couple is engaged to be married, and the last pair of plaintiffs, an interracial couple, married in 1976. … Because plaintiffs' claim does not fall within the narrow exception to the general bar against taxpayer standing, their suit must be dismissed."
…
"As plaintiffs have made no allegations of an 'injury in fact' that might otherwise allow them to assert standing in this case, plaintiffs have failed to meet their burden of showing they have standing to bring Due Process and Equal Protection claims," he wrote. "Accordingly, because Plaintiffs lack standing to bring their Fourteenth Amendment challenges, the court lacks subject matter jurisdiction over them and this action must be dismissed."

The plaintiffs appealed to the Fourth Circuit Court of Appeals in Richmond, Virginia, which upheld Coburn's ruling on Thursday.
The law requires magistrates to recuse themselves from actual marriage officiating for at least six months if they claim a religious exemption to homosexual "marriage." It's a concession of sorts, and the case wasn't decided on the merits. Regardless, magistrates in North Carolina can't be forced by the government to either quit their jobs or profane marriage to keep their jobs.
Photo credit: Fibonacci Blue (Creative Commons) – Some rights reserved