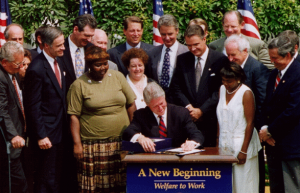 The 1996 welfare reform law required that some Temporary Assistance for Needy Families (TANF) recipients work or prepare to work for their benefits, but the Obama administration waived the requirement.
The Heritage Foundation reported in 2012 that the Obama administration's new "directive declared that in the future, neither states nor TANF recipients would have to obey these workfare requirements."
But the Trump administration restored the work requirement last week, rescinding the previous president's waiver.
"Reemphasizing the work requirements in the welfare program means once again promoting gainful employment and economic independence as goals for every family," said Acting Assistant Secretary for Children and Families Steven Wagner. "The waiver option offered by the Obama administration is being replaced today by an expectation that work should always be encouraged as a condition for receiving welfare." (emphasis added)
Star Parker, founder and president of the Center for Urban Renewal and Education, has written and spoken about her dependency on welfare and how she escaped. After the former president waived the work requirement, Star told CNSNews.com that he and his administration "really like people enslaved to government dependency."
She added that "when you promise somebody that you're going to take care of them from womb to tomb, the end result is larger numbers dependent, which is what's happening in food stamps and more bankruptcy, if you will, for our government coffers. We're not going to be able to limit the size and scope of government, reduce that size, if we continue to allow for these out-of-control poverty programs."
Star wrote in a June column that the "welfare state might have been driven by good and compassionate intentions. But to a large and destructive extent, it has subsidized and encouraged not working."
That the Trump administration restored the work requirement is good news for taxpayers who fund welfare but also the people receiving it. Breaking the cycle of poverty and dependency has to start somewhere.