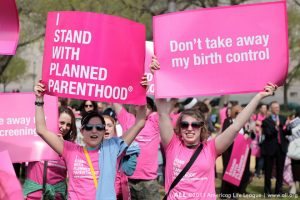 David Daleiden, the man who went undercover to expose Planned Parenthood's role in the sale of aborted-baby body parts, and his colleague Sandra Merritt, have been charged with 15 felonies in California.
Daleiden and Merritt of the Center for Medical Progress (CMP) faced related charges in Texas. They used fake IDs and pretended to be fetal tissue buyers. Harris County prosecutors charged them with a misdemeanor for trying to buy body parts and a felony for tampering with a government document.
Prosecutors eventually dropped all charges.
Now California prosecutors have charged Daleiden and Merritt with invasion of privacy and recording people without their permission.
The state's attorney general said the right of privacy "is a cornerstone of California's Constitution, and a right that is foundational in a free democratic society. We will not tolerate the criminal recording of confidential conversations."
Daleiden said that the "bogus charges from Planned Parenthood's political cronies are fake news. They tried the same collusion with corrupt officials in Houston, TX and failed: both the charges and the DA were thrown out."
During the summer of 2015, CMP began releasing a series of videos that showed Planned Parenthood abortionists talking about selling the body parts of aborted babies. One of them sipped wine and ate a salad while talking about organs, and another discussed how to kill unborn babies in a way that keeps organs intact.
The series also featured a former StemExpress tissue company employee revealing what another technician did to an aborted baby to get at his intact brain:
Photo credit: American Life League (Creative Commons) – Some rights reserved