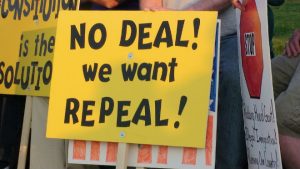 Conservatives ready to see the back of the outgoing President Barack Obama can take heart that Republicans will make changes. Maybe not all, but some.
The Heritage Foundation's The Daily Signal compiled a list of top-priority orders the new president can reverse, hopefully as soon as possible.
First on the list is Obamacare. While Congress works to repeal the law, legislators can immediately stop "crony" exemptions. Another issue high on the list is immigration enforcement. Perhaps some Americans have forgotten that we're a sovereign country allowed to enforce its borders and deport people here illegally.
Defunding abortion will always be important to Americans who oppose the slaughter and resent being forced to pay for the deaths. An excerpt:
Trump should reverse Obamacare's unprecedented taxpayer funding of abortion. He should also direct the secretary of Health and Human Services to undertake a rulemaking process that will end the mandate for insurance to cover abortion-inducing drugs and contraception, along with "gender transition" therapies and surgeries.
What about the executive order "guidance" for government schools to disregard the modesty, private, and safety of female students?
Trump should repeal the Obama administration's Title IX guidance equating "gender identity" with "biological sex." The Department of Justice and Department of Education have wielded this guidance to punish educational institutions for "discrimination" under Title IX, simply for having separate showers, locker rooms, and bathrooms for men and women.
Obama was determined not to wait for Congress to make laws and decided to pass some himself.
"I've got a pen and I've got a phone," he said. Come January, he won't be using them against the American people anymore.
Photo credit: NObama NoMas (Creative Commons) – Some rights reserved