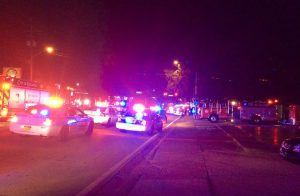 Residents of Orlando and Orange County, Florida, are no safer from the threat of Islamic terrorism today than we were a year ago when Omar Mateen shot up the Pulse nightclub, killing 49 and injuring 53 others. Orlando Mayor Buddy Dyer (Democrat) and Orange County Mayor Teresa Jacobs (Republican) still avoid identifying the massacre for what it was – a "terrorist" attack.
As a matter of fact, if we rewind to the day the attack occurred, I vividly recall the narrative switching within 24 hours from an "Islamic terrorist attack," which was correct, to a "shooting" perpetrated on the gay community by someone who was "rumored to be gay himself." In other words, the agenda quickly shifted to elevating and advancing the LGBT community in Central Florida rather than focusing on how to stop or deter homegrown radicalized Islamic terrorists, whether the assailant is gay or straight. As a result, except for a couple of local conservative radio hosts, I've been hard-pressed to find any other local radio or television station willing to call last year's deadly massacre a terrorist attack – even while ceremonies and activities are scheduled to memorialize the victims. Instead, words like "tragedy" and "shooting" filled the airwaves.
For those of you that may have forgotten, Monday, June 12, 2017, marked the one year anniversary of the terrorist attack against American victims who happened to be gay. Our aforementioned local government officials designated the day as "Orlando United Day – A Day of Love and Kindness." Sadly, although the tribute was touching, we did the victims, their families and the community no favors by ignoring the truth behind the massacre. Omar Mateen pledged his allegiance to ISIS and its leader, Abu Bakr-al Baghdadi, during a 911 call before carrying out the attack that specifically targeted Central Florida's most popular gay night club.
Contrary to popular belief, he did not assassinate his victims simply because they were gay and he was allegedly gay, but because Islamists hate gays and the club was a soft target location that he was familiar with. Mateen knew he could inflict maximum casualties with little to minimal effort. News reports confirmed last year that he had scoped out Disney Springs, as well as other locations before deciding on Pulse.
The Pulse nightclub terrorist attack was the largest of its kind in U.S. history. It's a shame revisionists are already at work to distort the truth behind it. Whether the shooter was gay or not is of no relevance to the attack that took place. The reason behind the attack was his ideology.
Tragically, Orlando's leaders and gay activists have used the terror attack to divide and censor those in disagreement with the gay lifestyle rather than unite us all against a common enemy – Islamic terrorism.
None of us is safe as long as Islamic terrorism remains a threat in the U.S. Can't we unite around that?
Originally published at WND.com

Carl Jackson is a radio talk show host – his web site is www.carljacksonshow.com. Media wishing to interview Carl Jackson, please contact media@wnd.com.
The views expressed in opinion articles are solely those of the author and are not necessarily either shared or endorsed by Black Community News.