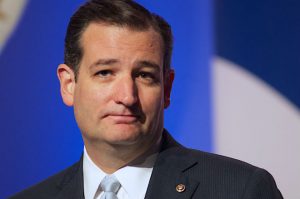 Now that the race to the GOP nomination seems like a one-man show, are GOP voters conceding to the presumptive nominee?
Sen. Ted Cruz, who suspended his campaign after losing Indiana to frontrunner Donald Trump last week, "suggested" he might restart his campaign if he defeats Trump in tonight's Nebraska primary.
From the Hill:
Cruz demurred on supporting Trump, the presumptive GOP presidential nominee, because the Republican National Convention and general election are still months away.

"This is a choice every voter is going to have to make. I would note, it's not a choice we as voters have to make today," Cruz said when asked about supporting Trump.

He also brushed aside the prospects of a convention fight or third-party presidential bid.

Cruz and allies told supporters Monday night call that they would not try to block Trump's nomination but instead focus on influencing the party's platform and rules, according to Politico.
So far, Americans have cast 10,717,357 primary votes for Trump, 7,325,796 for Sen. Cruz, 3,497,886 for Sen. Marco Rubio, and 3,764,238 for Gov. John Kasich. Hillary Clinton has received 12,561,272 and Sen. Bernie Sanders 9,446,660.
Trump needs 1237 declared delegates to be the uncontested nominee. He's got a couple hundred to go. There are still several primaries left, and the GOP convention is in July.
Trump's seemingly inevitable fate might cause some Sen. Cruz supporters to vote for Trump in the remaining primaries or stay home altogether.
Photo credit: Jamelle Bouie (Creative Commons) – Some rights reserved