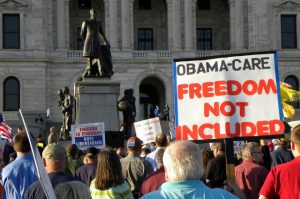 Although Republican lawmakers sent Barack Obama an Obamacare repeal bill with no serious resistance from fellow Republicans, that's not the case now that Republicans control the White House.
The House of Representatives might delay their vote on the repeal bill until Friday — but they might not. From the Hill:
"It didn't look like today was going to be when we're going to vote," said Rep. Phil Roe (R-Tenn.) after leaving a meeting with committee chairs and House Majority Leader Kevin McCarthy (R-Calif.), who controls the House floor schedule.
…
The vote on the healthcare bill was originally planned for Thursday, the seven-year anniversary of the day ObamaCare was signed into law.
As of 1:30 p.m., GOP leaders had not made a final decision about whether to delay the vote until Friday or next week.

They were still assessing negotiations that took place Thursday between President Trump and the far-right House Freedom Caucus at the White House. After the meeting, members of the caucus said they had not reached a deal with President Trump to win their support.
Senator Rand Paul opposes this version of the repeal bill.
We can do real repeal. The naysayers are wrong. Hold the line for #FullRepeal. Pull the House bill, delay the vote & let's do this right

— Senator Rand Paul (@RandPaul) March 23, 2017
Sen. Paul calls the bill Obamacare-lite. He proposes that Congress fully repeal and replace Obamacare at the same time. GOP lawmakers agree that the individual mandate has to go. Sen. Rand seeks to allow tax credits of up to $5,000 to individuals for Health Savings Plans.
Another source of contention among the GOP is coverage for pre-existing conditions. Sen. Rand wants to scrap that measure and place a two-year limit on when individuals with these conditions can get coverage.
Sen. Paul told Breitbart he doesn't think this version of the repeal bill will pass. Then, there's the Senate…
Photo credit: Fibonacci Blue (Creative Commons) – Some rights reserved