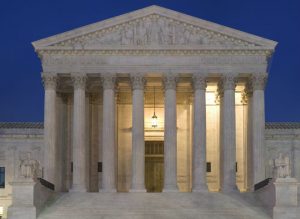 In a 7-1 ruling, the U.S. Supreme Court held that the state of Georgia violated the U.S. Constitution by excluding black jurors from a black defendant's murder trial in the 1980s.
Timothy Foster beat, sexually assaulted, and strangled a 79-year-old woman. An all-white jury convicted him and sentenced him to death.
Through a request for records, Foster's lawyers obtained prosecution notes that the defense claimed revealed a pattern of race-based exclusion during jury selection. From USA Today:
While jurors were being picked, prosecutors had highlighted the names of African Americans, circled the word "black" on questionnaires, and added notations such as "B#1" and "B#2." On a sheet labeled "definite NO's," they put the last five blacks in the jury pool on top and ranked them in case "it comes down to having to pick one of the black jurors."

This happened just a year after the Supreme Court had declared such actions unconstitutional. Civil rights groups say discriminatory practices in jury selection have survived for 30 years despite the Supreme Court's 1986 ruling in Batson v. Kentucky.

"The focus on race in the prosecution's file plainly demonstrates a concerted effort to keep black prospective jurors off the jury," Roberts wrote. He said prosecutors' other purported reasons for striking two of the blacks from the jury pool were belied by their acceptance of white jurors with the same characteristics.
Who was the lone dissenter in this case? Justice Clarence Thomas. He cited possible lack of jurisdiction.
"Before addressing the merits of Foster's Batson claim," he wrote (PDF), "the Court should have sought clarification that the resolution of a federal question was implicated in the Georgia high court's decision." He added that Foster's new evidence from the prosecutor's files "does not justify this Court's reassessment of who was telling the truth nearly three decades removed from voir dire."
Justice Thomas wrote that the Supreme Court's ruling "invites state prisoners to go searching for new 'evidence' by demanding the files of the prosecutors who long ago convicted them. If those prisoners succeed, then apparently this Court's doors are open to conduct the credibility determination anew."
The trial court rejected Foster's claims that his rights were violated during jury selection, and Justice Thomas contended that some of the new evidence corroborates "the trial court's conclusion that the [prosecution's] race-neutral reasons [for the juror strikes] were valid."