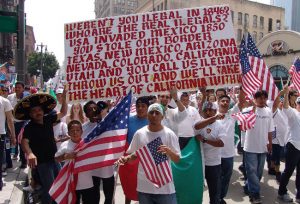 Last month a federal judge temporarily blocked parts of Texas's anti-sanctuary law, although police could still ask suspects about their immigration status.
The legislature had banned cities from prohibiting and materially limiting local law enforcement notifying the federal government about illegal aliens in their custody, among other things. The judge temporarily stopped enforcement of provisions that would allow law enforcement to also honor federal detainers as well as allow federal agents to enter local jails.
Judge Orlando Garcia wrote that there "is overwhelming evidence by local officials, including local law enforcement, that SB 4 will erode public trust and make many communities and neighborhoods less safe" and that "localities will suffer adverse economic consequences which, in turn, will harm the state of Texas."
But a three-judge panel of the U.S. Court of Appeals for the Fifth Circuit temporarily blocked the injunction against parts of the law on Monday. Texas can enforce the provisions. From the Daily Signal (emphasis added):
According to the appeals court, the lower court judge misinterpreted federal law when he enjoined the Texas provision on cooperation and assistance with federal immigration authorities. The statute he cited, 8 U.S.C. §1357(g), actually "provides for such assistance."

So Texas can "prohibit" local jurisdictions from engaging in such behavior, although the injunction remains in place on the phrase "materially limits" because that phrase needs "clarifying." But being able to "prohibit" gives Texas what it needs in order to stop these sanctuary policies.

The appeals court also threw out the injunction on the section of the Texas law that requires local law enforcement to "comply with, honor, and fulfill" any immigration detainer request issued by U.S. Immigration and Customs Enforcement (ICE).
The judge's ruling bodes well for Texas, a border state. A taxpayer-supported government should not be shielding illegal aliens to the detriment of the legal and law-abiding.
Ken Paxton, the state's attorney general, said that enforcing immigration law "helps prevent dangerous criminals from being released into Texas communities."
U.S. Attorney General Jeff Sessions said his department "is gratified by the decision of the Fifth Circuit Court of Appeals today. Texas is one step closer to ending the dangerous sanctuary policies that prevent federal law enforcement from keeping criminal aliens off the streets and keeping Texans safe."
The case will go before the full Fifth Circuit Court.
Photo credit: By Jonathan McIntosh – Own work, CC BY 2.5, Link