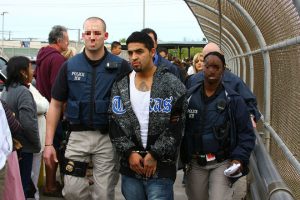 Some California residents don't want their state to be known as the one that refuses to cooperate with the federal government and harbors illegal aliens, especially those who commit violent crimes.
The small city of Los Alamitos in Orange County opted out of "sanctuary" status last month, defying their state, and said it would side with President Donald Trump in a lawsuit against California.
Orange County and other localities have chosen to put the concerns of law-abiding Americans before illegal aliens. Los Alamitos will finalize its sanctuary opt-out position this week, and sources reported that San Diego County might join the Trump administration's lawsuit against California.
The [San Diego] Board of Supervisors will discuss whether to join the lawsuit on Tuesday. The Orange County Board of Supervisors recently voted to join the lawsuit, while several cities in the county have decided to file legal briefs on the side of the Trump administration. Escondido voted earlier this month to submit a legal brief in support of the federal government.

Most discussion of the clash has centered on SB 54 or The California Values Act, which aims to keep local law enforcement officers from participating in immigration enforcement.
The Daily Caller reported that 11 cities in Orange County have broken with their state on this issue.
"We cannot let the state begin cherry-picking which federal laws it decides to follow," Supervisor Michelle Steel said in a statement. "As supervisors of this county, we all took oaths to uphold and defend the Constitution of the United States and bear true faith and allegiance to it against all enemies."
It's hard to believe that individuals elected by American voters and took that constitutional oath work so diligently to protect those who've entered and/or remain in this country in defiance of our laws. Hopefully, more elected officials in California will remember that oath and choose to obey all federal laws.