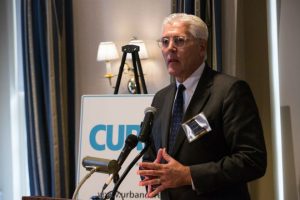 In this country, women have a "right of privacy" to kill the life growing inside their bodies, but leftists don't believe men, women, boys, and girls have a right to privacy in intimate facilities like restrooms, locker rooms, and changing rooms.
In yet another attempt to normalize homosexuality, the Charlotte City Council decided that in government buildings, including schools, the desires of people who like to pretend to be the opposite sex were more important than the privacy and comfort of everyone else. The council passed an ordinance granting "transgender" people the right to use facilities reserved for the opposite sex.
In an emergency session, North Carolina lawmakers overturned the ordinance. Gov. Pat McCrory signed the bill into law.
Various businesses and groups, including a top college sports organization, began boycotting the state for protecting residents who did not want to share restrooms with people of the opposite sex. Larry Elder pointed out the hypocrisy of those who boycotted.
For example, PayPal planned to build a new facility in North Carolina but canceled after the privacy-protection bill became law. But PayPal is headquartered in Singapore, "where homosexuality is a crime," Elder wrote. "Penal code Section 377A says: 'Any male person who, in public or private, commits, or abets the commission of, or procures or attempts to procure the commission by any male person of, any act of gross indecency with another male person, shall be punished with imprisonment for a term which may extend to 2 years.'"
Cirque du Soleil also boycotted the state, but they had no problem doing business in an Arab country where it's a crime to engage in "consensual sodomy." Our own U.S. State Department warns Americans who intend to travel there. "Consensual same-sex sexual relations are criminalized in the UAE. Penalties may include fines and imprisonment. Under interpretations of sharia, the punishment could include the death penalty."
Dr. Everett Piper (whose articles we reprint at BCN) is the president of Oklahoma Wesleyan University, a private Christian school, and he's doing some boycotting of his own. His school is a member of the National Association of Intercollegiate Athletics (NAIA), which is boycotting North Carolina. The organization moved the cross country championship out of the state. Dr. Piper said his school wouldn't participate this year because of the NAIA's boycott.
An excerpt:
"How can the NAIA claim to be an organization that 'champions character' if its leadership so eagerly breaks its word and its contract with the state of North Carolina?" questioned Dr. Piper. "And how can we claim to be an organization that supports women if our leadership is so willing to deny female athletes the right to have their own bathrooms, showers, toilet, and lavatory? The NAIA's disregard for such basic rights is sobering."

In the university's tenure as an NAIA school, Oklahoma Wesleyan has achieved numerous NAIA athletic accolades including conference, regional and national championships.
Imagine the impact Christians would have if more stood up for what was right and refused to cave.