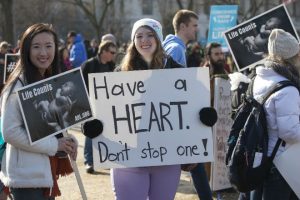 In a move that wasn't surprising, Governor John Kasich of Ohio signed one pro-life bill and rejected the other.
He signed a measure on Tuesday to ban abortions after 20 weeks but vetoed the measure that would have banned abortions after doctors detected the baby's heartbeat, usually around six weeks.
BCN speculated that this kind of bill would be easier to pass if a Trump court overturned Roe v. Wade and sent the abortion issue back to the states.
The new 20-week ban doesn't include exceptions for rape or incest but does allow taking the baby's life if the mother's is in danger. However, this doctor said the OB/GYN can deliver the baby through Caesarean if the mother's life is at risk, saving both patients.
An excerpt from the Columbus Dispatch:
The Heartbeat Bill's foremost champion, Janet Porter of Faith2Action, immediately denounced Kasich's "betrayal of life" and promised a campaign to find the necessary votes in the House to override the governor's veto. The Senate's vote was veto-proof on what would have been the nation's most stringent abortion law.

In his veto message, Kasich said the Heartbeat Bill, which would have forbid abortions at about six weeks into pregnancy, was clearly unconstitutional under U.S. Supreme Court rulings and would have resulted in an expensive — and losing — court battle.
…
The new abortion regulations, which will take effect in 90 days unless a court halts them, will make it a fourth-degree felony for a physician to perform an abortion after 20 weeks of pregnancy when the fetus is viable. The crime is punishable by up to 18 months in prison. A conviction also would result in the loss of a physician's medical license.
Michael Gonidakis, president of the Ohio Right to Life, said the ban "was nationally designed to be the vehicle to end abortion in America. It challenges the current national abortion standard and properly moves the legal needle from viability to the baby's ability to feel pain."
Of course, abortion advocates don't like even a 20-week ban on killing unborn babies.
Iris Harvey, president and CEO of Planned Parenthood Advocates of Ohio, said Kasich and legislators who support abortion restrictions "are intent on taking that right away. In his six years as governor, Kasich has systematically and incrementally enacted law after law to ban abortion in the state. Women are tired of politicians telling us what to do with our bodies."
Photo credit: American Life League (Creative Commons) – Some Rights Reserved