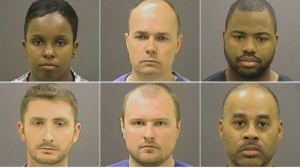 Sheriff David Clarke called the six Baltimore police officers indicted in Freddie Gray's death political prisoners.
"There was no basis whatsoever under the rule of law to charge the officers. None."
Three of those officers are suing Marilyn Mosby, the state's attorney general. Allegations include defamation of character, invasion of privacy, false imprisonment, and malicious prosecution. From the Daily Caller:
A federal judge unsealed court documents Tuesday that show Officers Garrett Miller and Edward Nero filed a joint suit against Mosby and Maj. Samuel Cogen of the Baltimore City Sheriff's Office, the Baltimore Sun reports. The suit alleges false imprisonment, defamation and violation of constitutional rights, claiming the charges filed against the officers were trumped up in an effort to quell anger after the Baltimore riots.

In addition to that suit, Lt. Brian Rice filed suit against Mosby and Cogen for false imprisonment, defamation of character, and violation of rights. The suit, which was unsealed Monday, points to the press conference where Mosby made heated rhetoric about the case.
One of the indicted cops, Edward Nero, was acquitted of all charges last month after a five-day bench trial. Officer Caesar Goodson Jr., who is black, is facing a charge of second-degree murder.