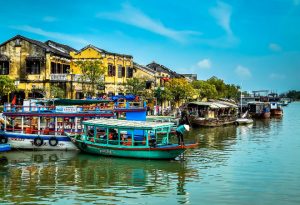 Trade partners make better friends than foes.
Despite candidate Trump's nationalist campaign rhetoric on the trail last year regarding trade policy that was flat out wrong, particularly concerning slapping tariffs on China, it appears our president has moderated his position. That's a good thing. Upon his arrival in the White House, President Trump canceled the Trans Pacific Partnership (TPP), leaving people like myself wondering if hardworking American families with little disposable income were going to have to pay the price, literally, for products made in China and other places overseas if he didn't realize the error of his ways.
With a national media consumed with the hashtag #Covfefe and comedian Kathy Griffin posing for a photograph depicting her gripping the severed head of President Trump, I wonder if you've even heard the great news about Trump's trade deal with Vietnamese Prime Minister Nguyen Xuan Phuc.
On Wednesday, the president met with the prime minister in hopes of strengthening trade ties with Vietnam. As you may know, Hanoi was the leading benefactor of TPP as a big exporter within the Asia Pacific region. Therefore, you can understand why the International Business Times of U.K. reported that the prime minister was all too eager to meet with the president to restore those ties.
The two leaders spoke for the first time in December. Even then, they discussed how to promote economic relations, trade and investment despite their differences on free-market trade policy. When President Trump pulled us out of TPP, it hurt Vietnam enough to leave Hanoi searching for new trade markets. Who were their potential partners? I'm glad you asked. The answer is China, Russia and the EU. Simply put, had these other markets been exploited, President Trump would've looked bad on trade, because he would've hurt the American consumer while emboldening the EU, China and Russia.
As early as 2016, the Obama administration lifted a full lethal-arms embargo on Hanoi that led to the U.S. participating in defense deals and joint military exercises with Vietnam. In return, Vietnam promised to support the U.S. in maintaining its security presence in Asia. With China's aggression in the South China Sea, which both the U.S. and Vietnam oppose, you can understand why Wednesday's meeting that garnered little to no attention from the press was "huge," to quote Trump.
Here's why it was important for Trump to shift his position on trade. I'm convinced that trade partners are less likely to become enemies. Secondly, tariffs on China's imports would've only raised prices on products for families already struggling financially. Thirdly, contrary to Trump's campaign rhetoric, and according to the Federalist.com, American manufacturing and exports are setting records. Ninety percent of manufacturing jobs that have disappeared in the U.S. between 2000 and 2010 were all due to robots and computers, not currency manipulation by China.
That's why I'm ecstatic to see President Trump work with nations like Vietnam to promote trade policy. According to Reuters, "The U.S. Commerce Department announced 13 new transactions with Vietnam worth $8 billion, including $3 billion worth of U.S.-produced content that would support more than 23,000 American jobs."
All I have to say is, good job, President Trump.
Originally published at WND.com

Carl Jackson is a radio talk show host – his web site is www.carljacksonshow.com. Media wishing to interview Carl Jackson, please contact media@wnd.com.
The views expressed in opinion articles are solely those of the author and are not necessarily either shared or endorsed by Black Community News.