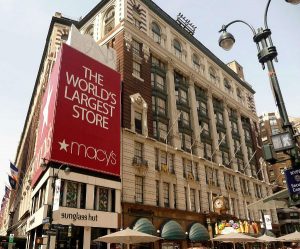 Are liberals boycotting Macy's department store, yet? Because the corporate powers-that-be did something they certainly won't like.
Some corporations match employees' donations to charities as a way to encourage giving. Planned Parenthood, which snuffs out the lives of the voiceless and vulnerable unborn, is one of those "charities."
StemExpress, a tissue company that used to work with the abortion mill, ended the relationship after the Center for Medical Progress began releasing secretly recorded videos that showed Planned Parenthood employees discussing the sale of aborted-baby body parts. Pro-lifers contacted companies to find out if they contributed to Planned Parenthood.
According to 2ndVote.com, AT&T, Coca-Cola, Ford, and Xerox stopped matching employees' donations to the organization. Macy's was on 2ndVote.com's list of abortion mill givers.
But that's all over. An excerpt:
However, Macy's confirmed with 2ndVote last week that the company no longer gives and no longer matches donations to Planned Parenthood.

You can see the updated Macy's scorepage here.

We wanted to share this great news with you because the credit is due to our 2ndVote members who have engaged these companies for their position on the Life issue. It's because of your decisions and conversations with these companies that the funnels of corporate dollars to liberal organizations are starting to close.
Regardless of the so-called right to kill unborn babies, why would any company that serves the public want to contribute to death and to be associated with such a divisive issue? There are plenty of people in need and noble causes.
"This Christmas, pro-lifers should consider shopping at Macy's," Newsbusters analyst Katie Yoder said. "Because, as it turns out, the giant chain listens to its conservative consumers. It's unlikely that the liberal media — which boast strong ties to Planned Parenthood and have been instructed to cover for the abortion giant — will publicize Macy's funding halt."
Photo credit: By Mike Strand – Own work, CC BY 3.0, Link