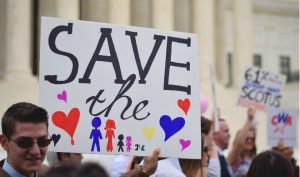 When Matt Bevin became Kentucky's governor in 2015, he said he'd protect Christian county clerks who refused to issue marriage licenses in their names to homosexuals.
Gov. Bevin signed an executive order to remove their names from these documents to protect their conscience and religious freedom, and the legislature followed up with a bill.
A court dismissed the cases against Davis. Even though it was a win as far as Davis and other religious county clerks were concerned, they didn't technically win the case, and neither did the ACLU, the organization that sued her. The issue became moot once clerks' names no longer appeared on the government documents.
That's why a judge just told the ACLU that they won't be getting any money from Davis after they sued her, this time to recover legal fees. This is what the judge wrote (emphasis added):
"[T]he plaintiffs are not 'prevailing parties' within the meaning of § 1988, and are therefore not entitled to an award of attorneys' fees," wrote U. S. Magistrate Judge Edward Atkins on Monday. He noted that legislative changes—not a court ruling—brought an end to the legal matter, which was subsequently declared moot. Therefore, Atkins explained, the ACLU and the homosexuals it represented cannot be considered the victors in the case.

"[U]pon the enactment of Kentucky Senate Bill 216, which removed the name of the county clerk from marriage license forms, all claims asserted in this action, including the pending appeals, were dismissed as moot, and the preliminary injunction, vacated," he outlined.

"This voluntary conduct by the state changing the marriage license forms so that the county clerk, Kim Davis, was no longer required to sign the license, does not signal that the plaintiffs prevailed in the action, and cannot serve as the basis for an award of attorney's fees," Atkins ruled.
A federal judge sent Davis to jail for six days for refusing to issue marriage licenses to homosexuals in her capacity as county clerk. Her legal issues aren't over. Davis's legal counsel, Liberty Counsel, reported that one of the plaintiffs is trying to reinstate a case against her.
Today's argument is regarding the Ermold plaintiffs' appeal of that dismissal last year.
…
"The Ermold plaintiffs are not satisfied with the marriage license they received while Kim Davis was in jail," said Roger Gannam, Liberty Counsel's Assistant Vice President of Legal Affairs. "Their vain claims for money and attention were rightfully dismissed," Gannam continued, "and the court should deny their vindictive attempt to take away the religious liberty victory Kim Davis secured for all Americans who want to perform public service without giving up their constitutional rights."