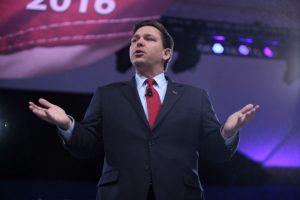 Former GOP congressman Ron Desantis may have gotten President Trump's endorsement for Florida's gubernatorial primary, but he lacks Trump's charisma and an ability to connect with an audience in the same way and that could make all the difference in November's election.
Florida Agricultural Commissioner and former Congressman Adam Putnam was a shoe-in to win the GOP gubernatorial primary, then came President Trump. As of last week, leading up to the general election, Desantis trails his Democratic socialist opponent Andrew Gillum, by 6 points according to the latest Rasmussen poll.
Trump first endorsed Ron Desantis, a Harvard Law graduate and Freedom Caucus member in late December 2017, with a tweet. The tweet read "Congressman Ron Desantis is a brilliant young leader, Yale and Harvard Law, who would make a GREAT Governor of Florida. He loves our Country and is a true Fighter!" That single tweet marked the beginning of the end for Putnam's bid for governor.
However, ultimately it was Trump's Tampa rally that he held for Desantis on August 1, 2018 that sealed the deal for the congressman. Just 27 days later Desantis crushed Putnam in the gubernatorial primary by 20 points. Since his primary victory however, Desantis' campaign has been underwhelming at best.
Desantis relied far too heavily on Trump's endorsement, as well as his national television appearances on Fox News with conservative giants Sean Hannity and Laura Ingraham. At times, it has felt like he's been running for a safe seat in Congress, rather than for Florida's top job. Many Republican voters here in Orlando I've spoken to have asked me "Where is Desantis? Is he holding any events? Is he even on the campaign trail?"
One veterinarian I spoke to admitted that a group of his fellow vets really liked Adam Putnam when they met him in person on the campaign trail. They thought he had a presence and likeability factor about him Desantis didn't. Yet, Trump chose Desantis, and as a result, so did they.
Desantis has a lot of ground to cover and he's behind the eight ball. In Obama's words, he needs to be out there "shakin' hands and kissing babies." Adam Putnam spent the last couple of years campaigning in every establishment imaginable doing just that – getting to know Floridians and how he could best champion issues that directly impact the state. Whereas, Desantis has largely run a nationalized race that's centered around GOP platitudes and television appearances. His ground game is virtually nonexistent. Not to mention his political missteps along the way.
First, there was the inadvertent "monkey" comment on "Fox and Friends" that allowed the left to run with their predictable narrative that all "Republicans are racists." Most recently, Desantis distanced himself from Trump over the Puerto Rican death toll numbers, when it's clear that George Washington University had no way of proving that 3,000 people in Puerto Rico died as a result of Trump's response to Hurricane Maria when the official number after the hurricane was 64 deaths. Puerto Rico's corrupt government officials should be held accountable for failing to update their infrastructure to better handle the aftermath of hurricanes, and Desantis should've called them on it.
If Desantis wanted to avoid the issue, he could've promised to delve into the numbers when he's elected governor and reminded Puerto Rican evacuees that he would work hard to create an environment in Florida where they're safe, and where there are plenty of jobs and housing available, so they don't have to relive the nightmare they escaped. Instead, he went on the defense and put himself at odds with the president responsible for his primary victory.
Puerto Ricans aren't dumb! They know how corrupt and inept their leaders were. And, I'm convinced they know that President Trump and FEMA did their best on the federal level to bring help and hope as quickly as logistically possible to the Island.
The latest Rasmussen poll has Democratic socialist, Andrew Gillum, leading Ron Desantis by six points. Eight hundred likely voters were polled. Floridapolitics.com reported that "Desantis continues to show difficulty reaching out beyond his base. Desantis had just a one point lead (48 to 47 percent) with men, but was 13 points down (50-37) with female voters. Desantis likewise, was up just one point with white voters (46 to 45 percent), and down 75-24 with African-American voters. Hispanics, however, favored Desantis 48-37."
Undoubtedly, Ron Desantis has an uphill battle if he's going to win Florida's governorship in November. In part, because he hasn't put in the work Adam Putnam did. Furthermore, despite his dangerous big government policies, Andrew Gillum is a handsome, charismatic and likeable guy in the vain of Barack Obama.
There's a lot at stake for Floridians if Gillum wins. Desantis should be shout that everywhere possible, including local news stations he began avoided leading up to the Tampa rally. Florida has no state income tax and a balanced budget amendment. With Gillum's advocacy for free health care and free college tuition for all, taxes would have to skyrocket. So-called "free" health care alone would cost Florida's middle class a lot of money out of their paychecks. That is, if employers can afford to keep them employed if some of Gillum's far left policies are implemented.
We all know that Ron Desantis is a solid conservative who can intelligently communicate conservatism and constitutional principles. I expect him to expose how foolish, costly and hurtful Gillum's policies would be to all Floridians in their debates.
Desantis has been a great conservative congressman, but outside of garnering Trump's endorsement he hasn't run a very good campaign. Regardless, he has my vote for Florida's next governor because I know what's at stake. However, given the razor thin margins by which Rick Scott races for Florida's top job were decided, Desantis can't afford to leave any vote on the table. So far, there doesn't seem to be a sense of urgency within his campaign and that needs to change today.
Photo credit: Gage Skidmore (Creative Commons) – Some rights reserved

Carl Jackson is a radio talk show host – his web site is www.carljacksonshow.com. 
The views expressed in opinion articles are solely those of the author and are not necessarily shared or endorsed by Black Community News.