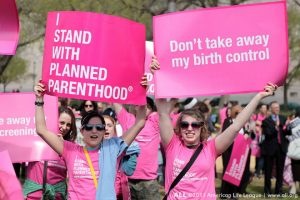 Rep. Diane Black, a Republican from Tennessee, co-sponsored the Health Care Conscience Rights Act, which would preserve religious freedom in the health care.
Businesses or individuals would be protected from government penalties for declining to pay for insurance plans that include abortion coverage.
"Religious freedom is a bedrock value of our society but, on President Obama's watch, this time-honored principle is under assault," Rep. Black said in 2015. "From Obamacare's coercive HHS mandate to the unlawful, pro-abortion directive by the state boards in California, it is clear that Congress must act where the White House will not and reverse this infringement of our First Amendment rights."
The bill, introduced in 2013, didn't get far, but the Trump administration created a new division in the U.S. Department of Health and Human Services (HHS) called Conscience and Religious Freedom to protect Christian health care workers from discrimination.
Rep. Black joined other pro-life lawmakers at a press conference this week to urge HHS to investigate Planned Parenthood for allegedly covering up sexual abuse and violating the Protect Life Rule, which supposedly separates abortion facilities from family planning programs funded by federal tax dollars. From Live Action News:
Planned Parenthood's systemic cover-up of child sexual abuse is the focus of Live Action's new docuseries Aiding Abusers. 1.5 million taxpayer dollars are given to Planned Parenthood every single day.

Fifty-six members of Congress have signed a letter asking HHS secretary Alex Azar to open an investigation into Planned Parenthood's cover-up of sexual abuse and trafficking.

Congresswoman Diane Black (R-TN), author of the Defund Planned Parenthood Act of 2015 and member of the House's Select Investigative Panel on Infant Lives, said that the "integrity of our tax dollars should never be in question, especially those intended for actual family planning and women's health care."

"Let me be clear: abortion is not family planning," she said. "It is family destruction. […] Under these new rules, we have an opportunity to equip women with resources that value and protect their unborn children."
In one of Live Action News's released videos, four former Planned Parenthood employees said they were told not to report suspected sexual abuse of women and minors who came to the abortion clinics.
Photo credit: American Life League (Creative Commons) – Some rights reserved