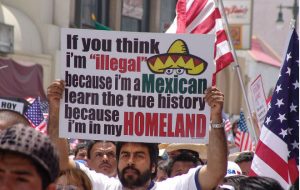 The Washington Times reported that 10 illegal aliens were granted "Dreamer" protection under the Obama administration's Deferred Action for Childhood Arrivals (DACA) program even though they'd been arrested on murder charges.
Over 500 illegal aliens had been charged with rape and other sexual assault crimes, and over 2,000 had been arrested for drunk driving.
But they were still granted DACA protection.
Despite these charges, the government allowed these illegal aliens to remain here and to legally work. An excerpt:
All told, 53,000 people who have been approved for DACA — 7 percent of the total — had a criminal record when the government granted them status. Nearly 8,000 racked up criminal charges after they'd been approved, according to the data from U.S. Citizenship and Immigration Services.

DACA turned six years old on Friday and is back in the news as the House of Representatives begins to debate whether to grant a broad amnesty to Dreamers, and as courts across the country grapple with the legality of the 2012 program.

The new data will likely affect both the legislative and court action, since it gives some indications of the levels of screening, and waivers, the government is willing to offer for Dreamers who apply.
The Washington Times reported that traffic violations like driving without a license don't count.
DACA recipients must re-apply for the program every two years. If they get arrested in the meantime, they could still be allowed the privilege of remaining in this country.
In theory, any criminal history at all, even if it didn't cross the conviction thresholds, could have led to a discretionary denial. But the number of people approved with lengthy records suggests that didn't always happen.

Two dozen Dreamers won DACA despite having more than 10 arrests on their record. More than 1,200 others had been arrested between five and nine times.
Photo credit: By Jonathan McIntosh – Own work, CC BY 2.5, Link