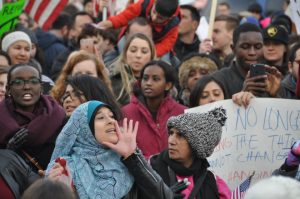 The U.S. Supreme Court on Monday upheld President Donald Trump's executive order to temporarily ban immigration from several Muslim-majority countries — an effort to protect Americans from Muslim terrorism that has impacted the globe.
Lower federal courts blocked the order, but seven of the nine justices allowed the full travel ban to take effect.
By a vote of 7-2, the Supreme Court rightfully stepped in to block these lawless injunctions. Federal law is clear: @POTUS has wide constitutional & statutory authority over immigration policy and the steps needed to protect national security. -> https://t.co/YYpaEu80vs

— Senator Ted Cruz (@SenTedCruz) December 4, 2017
For now, most foreigners from Chad, Iran, Libya, North Korea, Somalia, Syria, Venezuela, and Yemen won't be allowed to cross our borders.
Photo credit: elmoree (Creative Commons) – Some rights reserved