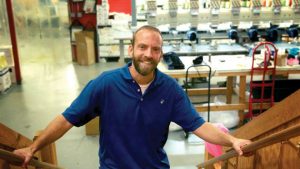 A Kentucky circuit court and the court of appeals ruled in favor of a Christian business owner who declined to print T-shirt messages for a "gay pride" event, citing his religious beliefs.
But his fight isn't over.
The state's so-called human rights commission had ruled that Blaine Adamson, owner of print shop Hands on Originals (HOO), discriminated against homosexuals when he refused to provide services for an event that conflicted with his beliefs.
The losers appealed to the Kentucky Supreme Court, which has agreed to hear the case.
"For all the years that I've been running my business, Hands on Originals, I've happily served and employed people of all backgrounds, of all walks of life," Adamson told the Daily Signal. "That's why it was hard in 2012 when a customer sued us after I politely declined to make T-shirts promoting the local pride festival. I was surprised because I work with and serve gay people. But I can't print any message that goes against my faith, no matter who asks me to print it. And whenever I can't print something, I always offer them to another local print shop."
Working with "gay people" didn't matter and wasn't nearly enough to satisfy their desire for all to approve of their lifestyle. Hopefully the state's highest court agrees. Would the court, or any court, rule against a black business owner who declined to provide services for a "white pride" parade?
Alliance Defending Freedom (ADF), which represents Adamson, filed their brief in the case. From ADF:
"The faith of HOO's owners not only motivates them to serve the marginalized, it also places limits on what HOO can do," the brief states. "HOO will not print items that convey or otherwise support messages inconsistent with its owners' religious beliefs."

"We are asking the Kentucky Supreme Court to affirm the First Amendment's promise that everyone, including printers like Blaine, can decide for themselves the ideas and beliefs that they choose to express," said ADF-allied attorney and co-counsel Bryan Beauman of Sturgill, Turner, Barker & Moloney, PLLC, of Lexington. "That's a freedom that every American deserves."