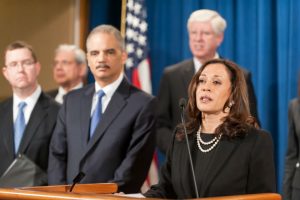 The California Attorney General's Office, led by Kamala Harris, ordered a raid on pro-lifer David Daleiden's home during an investigation related to his organization's undercover sting of Planned Parenthood.
Daleiden accused Harris of stealing unreleased Planned Parenthood videos during the raid.
Harris is asking constituents to donate money to her campaign for U.S. Congress to stop lawmakers from defunding the abortion mill.
If that doesn't rise to the level of conflict of interest, this revelation might. The Washington Times reported that officials from the attorney general's office collaborated with the abortion mill to outlaw the kind of work Daleiden did to advocate for the unborn.
As Attorney General, @KamalaHarris represents the People. Instead, e-mails show she helped @PPact cover up their crimes against humanity.

— Lila Rose (@LilaGraceRose) September 28, 2016
From the Washington Times:
The emails depict conversations between the state agency and Planned Parenthood over AB 1671, which would amend the penal code to make secretly recording and disseminating communications with health care providers a crime. Gov. Jerry Brown has until the end of the month to sign or veto the bill.

AB 1671 is a response to the Center for Medical Progress' undercover video series spearheaded by David Daleiden.

The documents are another indication of Ms. Harris' close relationship with Planned Parenthood and call into question the impartiality of her ongoing investigation of Mr. Daleiden, legal experts said.
The emails show Beth Parker, chief legal counsel for Planned Parenthood Affiliates of California, sending multiple drafts of AB 1671 to Jill Habig, who was at the time special counsel to the attorney general.

"Attached is the language for AB 1671, proposed amendments to Penal Code section 632," Ms. Parker wrote in an email marked March 8. "I look forward to your thoughts about this."
A law professor quoted in the story said that Harris "is supposed to represent the people of California, not a particular industry in California. What would people say if the attorney general would be working with the local slaughterhouses to help them cover up instances of cruelty to animals?"