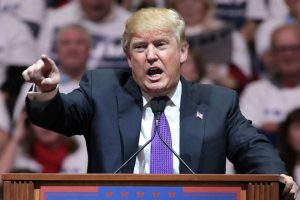 Jason Riley, author of Please Stop Helping Us: How Liberals Make it Harder for Blacks to Succeed and Wall Street Journal columnist, penned an op-ed about the recent presidential debate between Hillary Clinton and Donald Trump. He was critical of Trump's performance.
"You must show people that you have the knowledge and temperament for the job…You know that average voters aren't the only ones who remain skeptical of your qualifications. So are your peers. Top business executives at the nation's largest companies backed Mitt Romney in 2012 but are sitting out this year's campaign or supporting Mrs. Clinton. Well-regarded national security experts, such as former Defense Secretary Robert Gates, are also skeptical. Mr. Gates described you in these pages as "stubbornly uninformed about the world and how to lead our country and government, and temperamentally unsuited to lead our men and women in uniform." You know that the first debate will draw tens of millions of viewers and provide the best opportunity between now and the election to prove the doubters wrong."
Riley also didn't like Trump's demeanor. He "looked and sounded frighteningly unprepared." He rolled his eyes, shifted his weight, and seemed impatient. He was rambling and incoherent.
"The one thing everybody already knows about Donald Trump is that he's very rich, yet the candidate couldn't stop reminding us of this fact throughout the evening and no matter the context. Asked about recent racial unrest following police shootings around the country, he began, 'When I look at Charlotte, a city that I love, a city where I have investments . . . .'"
What about on-the-fence or undecided female and black voters?
"Mr. Trump did nothing Monday to help his standing with the women and minority voters who are likely to decide the election. When confronted with past sexist remarks, he remained silent or said the women 'deserved' it. Democrats deserve criticism for their treatment of black voters, but it's hard to take it seriously coming from a man who seems to have discovered black America about 15 minutes ago. Someone on Team Trump ought to inform the candidate that the vast majority of black people in the U.S. are neither unemployed nor living in poverty."
Do you agree with Riley's assessment of Trump's debate performance?
Photo credit: By Gage Skidmore from Peoria, AZ, United States of America – Donald Trump, CC BY-SA 2.0, Wikimedia Commons