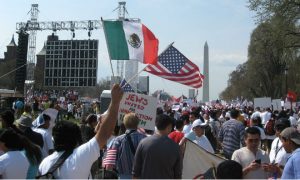 President Donald Trump signed an executive order titled "Enhancing Public Safety in the Interior of the United States" in January. The measure reads in part:
"We cannot faithfully execute the immigration laws of the United States if we exempt classes or categories of removable aliens from potential enforcement. The purpose of this order is to direct executive departments and agencies (agencies) to employ all lawful means to enforce the immigration laws of the United States."
The order is a warning to jurisdictions that they could lose federal funding for refusing to comply with federal immigration law.
The city of Richmond, California, sued to stop the order, claiming its Hispanic population would be harmed. But a judge rejected that claim. From the Washington Examiner (emphasis added)
"Despite having no real-world friction with ICE or the defendants over its policies, Richmond argues that it is likely to face enforcement under the executive order because it has been called a sanctuary city and because it has a large Latino population," Orrick wrote. "Neither of those arguments is persuasive.

"Richmond asserts that it has been called a sanctuary city, but does not say by whom or in what context. This vague assertion that someone, somewhere, referred to Richmond as a sanctuary city is insufficient to demonstrate that the federal government believes Richmond is a sanctuary city or is likely to enforce the executive order against it."
In other words, Richmond doesn't have standing to challenge the president's executive order.
Photo credit: JBrazito (Creative Commons) – Some rights reserved