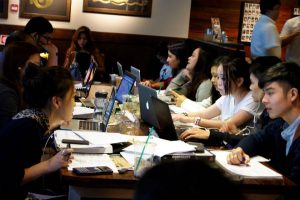 Colleges and universities across the country — state-supported and private — lower admissions standards for certain minority groups in the name of "diversity."
Racial preferences, euphemistically called "affirmative action," is racial discrimination. One student is admitted because of his race; another is denied admission because of his race.
And the U.S. Supreme Court said this practice is not unconstitutional. The court ruled in 2003 that schools may use race as a "plus" factor in admissions, because the benefits of "diversity" outweigh racial discrimination against individual applicants.
Admissions standards are highest for students of East Asian descent, as they generally outscore whites, Hispanics, blacks, and other groups. Whites are the next highest scoring group, followed by Hispanics, then blacks.
(See Discriminating Against High-Scoring Asians Because "Diversity")
The Wall Street Journal reported that the Trump administration has opened an investigation into Harvard's admissions system. Asian civil rights groups claim Harvard is discriminating against these applicants.
(See Is Racial Discrimination Illegal? Here's What the Supreme Court Just Ruled)
The U.S. Department of Justice reviewed a dismissed 2015 discrimination complaint. An excerpt:
The department told Harvard it "may file a lawsuit" to enforce compliance if Harvard doesn't hand over the documents by a new deadline of Dec. 1, according to a separate letter dated Nov. 17 from John M. Gore, the acting assistant attorney general for the Civil Rights Division. The department wrote that the materials requested by the Justice Department have already been provided by Harvard to the plaintiffs in the lawsuit.

The documents confirm the existence of an investigation that the Justice Department in August indicated it would pursue and suggest that Harvard has challenged the authority of the department's Civil Rights Division to conduct it.

Harvard has previously said its admissions process is consistent with the legal precedents set over the past 40 years by the Supreme Court, which have allowed universities to consider race as a factor in admissions to obtain the benefits of a diverse student body.
Photo credit: By Nicola Sap De Mitri – flickr, CC BY-SA 2.0, Link