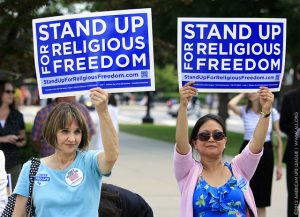 Religious freedom feels like a tenuous thing in this age of anti-Christian sentiment, where refusing to participate in profaning marriage can result in government fines or jail.
Christians hope President Donald Trump is committed to protecting Christians by implementing some kind of action to bolster the First Amendment's guarantee of religious freedom, though we shouldn't need it.
But Christ-professing florists like Barronelle Stutzman and bakers like Aaron and Melissa Klein and Jack Phillips, who had no issues with selling their wares to homosexuals but declined, on religious grounds, to provide services for homosexual "weddings," know better.
According to the Hill, President Donald Trump "reportedly" has asked a group of conservatives to the White House to witness the signing of a future executive order protecting religious freedom. An excerpt:
Politico reported Tuesday that two senior administration officials confirmed the plan. One source noted that the language of the order has not yet been finalized by the White House lawyers, but a draft leaked in February would give businesses and individuals the ability to claim broad religious objections.

The Trump administration has been under fire since, with critics arguing that it would allow discrimination against the LGBT community.

Following the initial leak, Vice President Pence and his team have reportedly worked on rewriting the language of the document.
Let's hope the rewrite doesn't take the bite out of Christians' right to decline services that conflict with their faith, which is part of the free exercise of religion.
Photo credit: American Life League (Creative Commons) – Some rights reserved