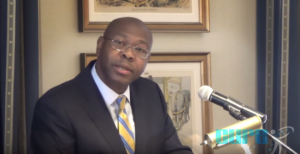 Jason Riley's book, Please Stop Helping Us: How Liberals Make it Harder for Blacks to Succeed, reveals the dire need to educate all people, particularly African Americans, on the things that divide us. It shows us the need not to listen solely to the institutions and voices that dominate the microphone of enlightenment.
Riley's Please Stop Helping Us points out how black politics in America needs to be rebuilt. I believe the best contractors for this process are pastors. The book amplifies the decades of "helping" by making excuses, making laws, making liberal politician's government programs that give a crutch to a people that need none of the above.
I was almost stunned at the information about unions that blocked blacks from higher-paying skilled jobs. Riley reveals how skills learned during slavery were lost when freedom came, because the Negro was a threat to the white man's jobs. Riley also mentions that whites did not want to work alongside the Negro. So unions were created to keep the Negro out, yet, they are still operating today. However, the ignorance of unions' mission is seemingly hidden from the people who support them!
I've pastored for over 35 years, but Jason Riley's writing has given me new fodder for messages to educate the people the Lord allows me to speak to. It's given me a vision of the possibility for change with proper, good information. The chapter on the power of the teachers unions and the deterioration of our schools are enough to preach on for a year. Thanks, Jason Riley
Bishop David A. Richey is the founder and senior pastor at Gulf Coast Christian Center in Mobile, Alabama. He is also the founder and presiding bishop of the non-profit Operation MOBILE International Churches, Inc.