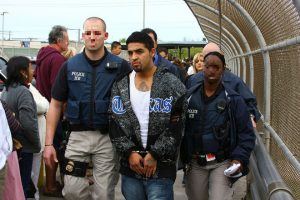 The federal government must detain illegal aliens who've served time for deportable offenses, no matter long ago they were released, and can hold them indefinitely.
The U.S. Supreme Court handed down this 5-4 decision (PDF) on Tuesday, reversing a U.S. Court of Appeals for the Ninth Circuit decision, which would have exempted these illegal aliens from mandatory detention unless picked up immediately after release from serving time.
How feasible is this in a "sanctuary" jurisdiction?
The court disagreed with the plaintiffs' interpretation of federal law. From the Hill (emphasis added):
In delivering the decision, which split the justices along their ideological lines, Justice Samuel Alito said the 9th Circuit's interpretation conflicts with the plain text and structure of the law Congress created for immigrants who have committed certain dangerous crimes.

"If the alien evades arrest for some short period of time — according to respondents, even 24 hours is too long — the mandatory-detention requirement is inapplicable, and the alien must have an opportunity to apply for release on bond or parole," he said.

"Four other circuits have rejected this interpretation of the statute, and we agree that the 9th Circuit's interpretation is wrong."
Photo credit: ICE