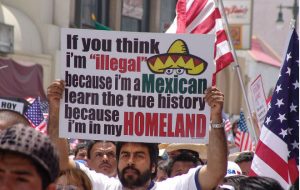 President Donald Trump promised voters that the United States would build a border wall between us and Mexico, and voters are still hoping to actually see a physical wall going up.
Resistance to a wall isn't the only impediment. Money is a huge factor.
The House Appropriations Committee voted on Wednesday to allocate $51.4 billion to the U.S. Department of Homeland Security (DHS) for 2019, which includes $5 billion for the wall.
According to the Washington Times, Rep. Kevin Yoder, a Republican and chairman of the Subcommittee on Homeland Security, said the funding would support the "three-legged stool" of border security involving barriers, technology, and manpower….I encourage anyone who would characterize a single piece of of this three-part strategy as anything less than mission critical to further investigate."
But are there strings attached? This Republican doesn't like the bill.
Why is @HouseAppropsGOP voting to undermine AG Sessions's asylum reforms & throw open our borders to fraud & crime? The amendment they adopted today is the kind of thing that will kill the DHS spending bill. I hope the full committee removes it.

— Tom Cotton (@TomCottonAR) July 25, 2018
Republicans, who control Congress, compromised with Democrats to "mitigate some of the fallout from the child separation crisis at the border."
What else are they trying to mitigate?
The Hill reported that the committee approved an amendment that would undo Attorney General Jeff Sessions's decision to deny asylum to foreigners who claim to be victims of non-governmental actions like domestic or gang violence. Even if the bill makes it through the full House and Senate, there's no guarantee President Trump will sign it.
Photo credit: By Jonathan McIntosh – Own work, CC BY 2.5, Link